Our history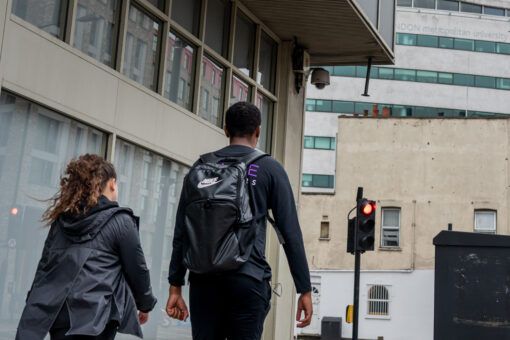 How CAPE Mentors came to exist
CAPE Mentors' story is underpinned by founder Hussein Hussein's experience of the education system. As a former free-school-meals student growing up on council estates in Hackney and Islington, he witnessed first-hand the effects of poor education and poverty. Luckily, his mother understood the pitfalls within the education system. Following his elder brother's dire experiences at their local school, Hackney Downs, she made the decision to relocate temporarily so Hussein could attend a Camden secondary school. There, Hussein was exposed to a world that his local friends were not. The differences in their educational opportunities were clear. Hussein saw how his friend's local school failed them through low expectations and no exposure to the world beyond their postcode.
Hussein was well aware of the impact this had, with many not achieving academically, enduring tumultuous transitions into adulthood, and this far too often resulting in imprisonment.
These experiences were central to his motivations to become a teacher to help students like himself to achieve; his driving force to become an educator committed to improving the life-outcomes of society's most vulnerable children. Hussein completed the TeachFirst leadership programme and taught in an inner-London primary school, graded "special measures" by Ofsted. He then moved to a Pupil-Referral-Unit (PRU), seeking to work with those most marginalised. Within a year, he became Assistant Headteacher and guided the school to a "good" Ofsted from "requires improvement".
Although Hussein enjoyed his time within the PRU, he saw that large numbers of children within these settings spend little time to no time within school at all.
In January 2019, Hussein walked away from his role as Assistant Headteacher and piloted a CAPE (Creative Alternative Path for Education) Mentors project. He supported a children's home in Merton. Working with them, he designed bespoke tuition packages for their children. Through utilising a mentoring approach within these interventions, he managed to engage 100% of the students he worked with. One of whom, was offered a place within a mainstream school having demonstrated his readiness to learn.
As the year went on, referrals from local authorities rocketed. The impact of CAPE Mentors' tuition and mentoring was undoubtable. With 90% of children referred either returning to school, avoiding exclusion, finding employment or significantly improving their attendance.
However, as CAPE Mentors was built from the bottom up, the infrastructure was not yet capable of efficiently managing the demand placed upon so it. So, in 2020, Hussein put CAPE Mentors forward for the Fair Education Alliance (FEA) Innovation Award. They were announced as one of five winners. CAPE Mentors embarked on a yearlong programme of support. As this culminated in June 2021, CAPE Mentors gained charitable status.
Since then, CAPE has significantly expanded its reach across London. Working with nearly a thousand students through a combination of one-to-one tuition and mentoring, staff training and in-school residency.
Moving forward, CAPE is looking to transform the mentoring and tuition space through recruiting the best people and training them to deliver their interventions the CAPE Mentors' way.
Quote
CAPE mentoring service was able to provide a bespoke tutoring package to one of our Looked After young people. Working with the year 11 pupil who had been out of mainstream for some time, Hussein was able to plan and implement a tutoring package which included his individual interests related directly to the GCSE curriculum.

Knowlton Crichlow, Director, Children of the Mangrove